Description
Our single malt whiskey is made from Fall Rye grown in BC's Peace River valley. Exceptionally smooth, this small-batch rye is triple-distilled with an oak-finish. Enjoy it neat, on the rocks, or in cocktails.
This single malt rye whiskey is available in 40% alcohol by volume in a 700 ml bottle.
---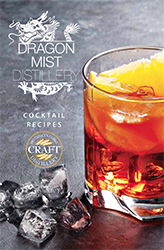 Each kit includes our 20 page cocktail recipe book with 24 tried-and-tested cocktail recipes. Download the booklet for free and start experimenting!